Discussion Starter
·
#1
·
So as a delayed birthday gift to myself I went out on a saltwater fly fishing charter over the weekend in Tofino. Started out Sunday at 7:00 Am at 1st street dock where I met my guide Jack of Jacks fly fishing adventures in Tofino. Hoped into his boat and sped off across the sound, which took about 15mins, and witnessed one of the best sunrises I've seen in a long while. Once we were across my guide started setting up two 8wt fly rods both had full sink lines one had a nice buck tail fly on the end, which he handed to me. As he started to set the second rod he asked if he could put on a spoon and a weight on the end of it unless I was opposed to this. Sure I said I've never done that before and he said it was a good searching pattern. So this being my first time fishing in saltwater and the first time trying to cast an 8wt rod with full sinking tip and a big heavy fly seemed rather daunting so opted to troll the buck tails.
The weather was perfect the waters were calm and the sun was out, as we started to cruise around the amount of needlefish that were around was insane. As we were taking in the sun started asking how often springs are caught on the fly my guide said not very often but it happens... sure enough about five minutes later bang a fish hits the rod with the spoon. I switch rods with the guide and the line starts to peel off like mad on a long powerful run after about ten minutes of battle we bring to net a nice 15lb spring salmon.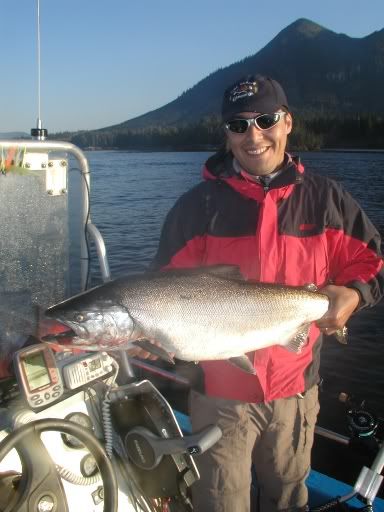 So that's the first spring I've ever caught I was pretty happy considering I thought I'd only see Coho on this trip. So on we continued for about another hour of trolling when as I'm watching my buck tail swim behind the boat I see a flash of silver come up and hit the fly hard twice then the line started to peel of it did a quick run straight out did lots of flips and then came racing back at me after another nice battle we netted a nice 10lb Coho.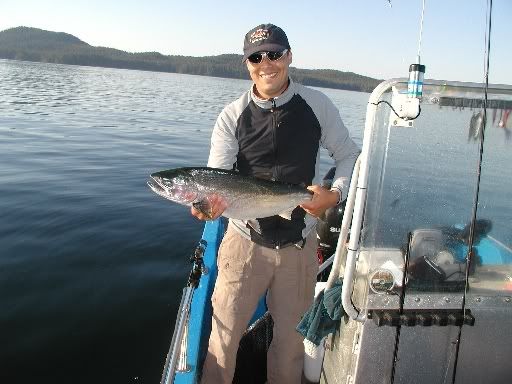 My first Coho from the ocean. So once again we continued to cruise around the same area but this time our wait was longer. After about an hour and a half of trolling just when I thought it was a good time to stretch out bang the rod with the spoon gets hit hard. I grab the rod and the line starts to peel off the fastest yet the drag actually went silent the reel was going so fast. I was into the backing a lot quicker than I thought this fish was going straight and really fast. At this point we couldn't tell if it was a spring or a Coho but it felt the same as the spring did. And then things changed this fish which was a Coho started to do some pretty big aerials and lots of rolling and then once again it came straight at us but this time it was super fast I couldn't reel in fast enough so the guide fired up the motor and gave some much needed help as the fish came closer we had our doubts if it was a Coho just cause of the size of the fish. So after about 15mins of quick runs and more rolling we netted a nice 16lb Coho.
It was 10:30am and I had my two Coho and a bonus spring so I was more then happy to spend the rest of the morning just watching the buck tail swim around and take in the breathe taking scenery. This was my first time fishing for salmon in the ocean and doing it with 8wt fly rods was a great way to do it they were light enough to still get a nice fight but strong enough to land the fish and catching them on the surface or just below was awesome seeing the huge silver shape coming up and smashing the fly or hitting the spoon was great.
I would definitely recommend this for everyone
Thanks
Bead Head
[/img]